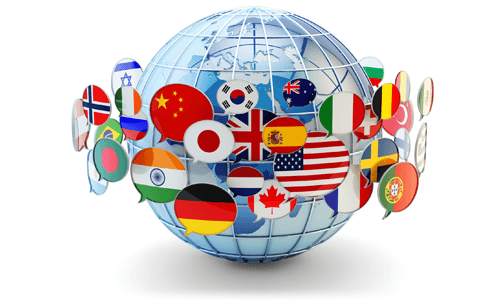 Our dynamically developing company was set up in order to help local and foreign companies and individuals with their business activities in today's linguistically diverse world. Multinational business needs communication in foreign languages, often in the mother tongue of the business partner. We offer our professional services to cut away linguistic constraints and so to promote the success of our clients. Our translators, editors, proofreaders, interpreters and teachers working in Hungary and abroad have a long professional history and high educational standards. Both qualities are of the highest importance in this field.
Linguistic and professional competences
We do not agree with the nowadays unfortunately widely accepted opinion, that professional and complex translation tasks can be carried out by less qualified linguists – many years of experience has clearly proven us the opposite, thus we choose our partners and employees according to the following criteria:
Translator's and/or interpreter's degree
At least one specified field of expertise backed by proper qualification and experience
Perfect understanding of both written and spoken forms of the given language
At least 5 years of experience in the fields of translation and/or interpreting
Traceable references in the field of specialisation at hand.
Hence, Turris Babel ensures having the client's best interest at heart in two ways: the translation and interpreting assignments suit our partners' needs both in technical contents and linguistic perfection.
How do we work?
Our translator, editor colleagues are in constant contact with our project managers, who control and direct the entire workflow. Our office and our colleagues have a wide variety of literature, dictionaries, glossaries, and profession-specific TMs (translation memories) available for translation, editing and proofreading – in this way ensuring the most up-to-date and accurate result possible.
After finishing a document, the project managers review the work of the translators, then our native editors perform a thorough check, and if necessary, correction. This procedure is followed by yet another check (proofreading): this process ensures that the translation perfectly complies with the ordered format, both linguistically and stylistically.
Smooth and accurate interpretation
When companies or large organizations need interpretation services, in many cases, interpretation agencies outsource their less experienced colleagues. It is a common misconception that in these circles, simple mediation will suffice, and fluent, simultaneous interpretation is only important for conferences and larger events.
We do not share this view. We believe a good interpreter works unnoticed, fast and smoothly, able to convey what the two parties have to say almost as quickly as if they were talking without mediation. It is extremely important for us to be able to offer our clients a professionally correct, precise solution in interpretation as well – all in polite and discreet manner and with maximum reliability.
Language courses for companies
Our experience shows that for a truly effective working environment, it is essential that employees are also familiar with each other's or their partners' language. We try to improve the international efficiency of companies that turn to us by offering on-site, professional language courses.
The exact material of our courses, the pace of progress and the purpose of learning are determined by the needs of our clients. We contribute to their joint success through creative, suggestive teaching methods, full consideration of students' prior knowledge and needs, and continuous, personal assessments.
Beyond translation and interpretation
Creating the perfect translation alone does not guarantee success. Processing and reviewing large amounts of texts in foreign languages is often a difficult task. This is why we have designed our range of services in such a way that we can help our clients not only by translating texts, but also by editing, proofing them.
Our translation agency undertakes the transcription and typing of audio materials, but you can also entrust us with the editing and layout of any text – even the pre-press tasks. In our own studio with the highest broadcast standard, our native speaking colleagues undertake the narration of documentaries and presentations, but we are also happy to proofread and translate films and screenplays.